They say there is nothing stronger than the bonds formed on the battlefield, and the men of the 26th Battalion, who were in the thick of every major battle the Canadian Corps faced in the First World War, kept true to theirs for the rest of their lives. The veterans of the 26th Battalion organized the 26th Battalion Overseas Club after the war and held their first reunion ten years later in 1928. They continued to hold them every June 13th, commemorating the day the Battalion sailed for war from Saint John (for at least another 40 years).
We have found two programs from these dinners: one from 1960 (the 45th year since the sailing) and the other from 1966 (the 51st year since the sailing). Both programs follow the traditions of the 26th Battalion and standard military protocol, with the prescribed singing of anthems, the prerequisite toasts and responses and the remembering of those lost to time. The menus included in the programs are similar and both ended with the S.R.D. (Seldom Reaches Destination). What is an S.R.D.? To find out you will have to attend the Commemoration Dinner on Friday, June 12 at 6pm.
Our dinner, inspired by the 1960 45th Anniversary will be following the 1960 menu and program almost to the letter. It will give you a taste of what the men of the 26th Battalion experienced 55 years ago, along with a few additions that will liven up the evening. The Banquet is also a fund-raiser for the Victory Cannon Campaign, which will help restore the two captured German First World War cannons that sit in the square in Hopewell Cape.
Be sure to grab your tickets early as they are going fast, and seating is limited. It is a great chance to experience a unique dinner and program honouring an important historical event.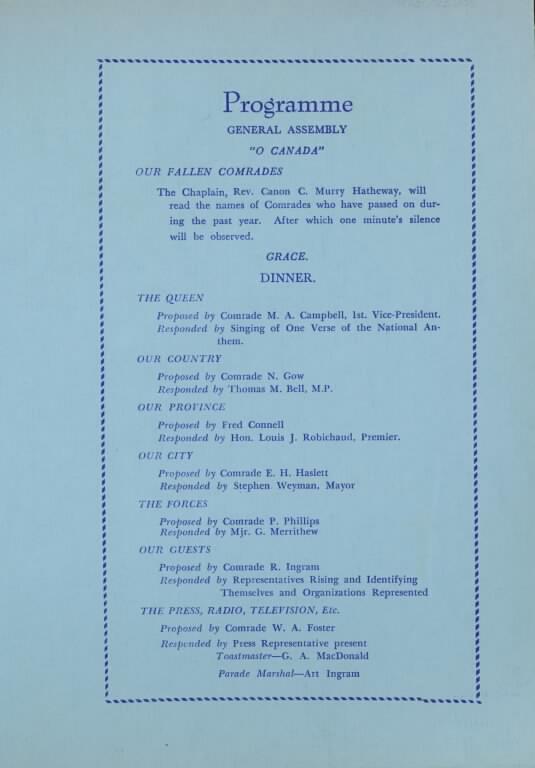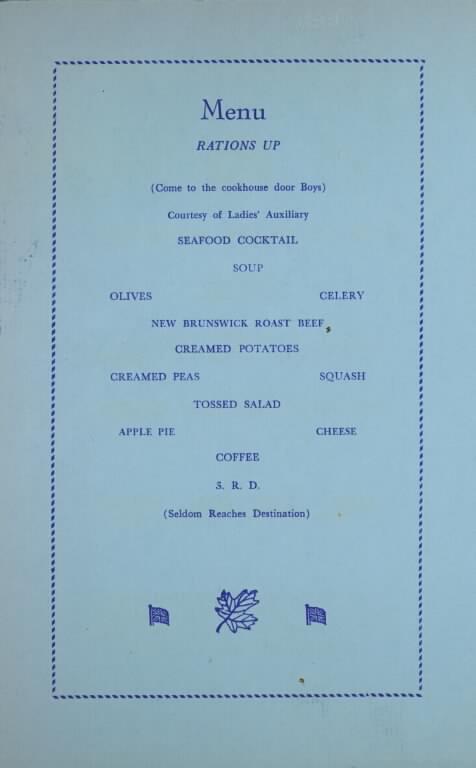 PS Tickets are $25.00 each and can be purchased by calling the museum 506-734-2003